Blog
The Fisher Towers section of the Colorado River is by far the most popular Moab rafting trip. More people laugh, splash and swim their way down this 14 mile piece of the Colorado River than any other stretch. The longer I am in this business the more I come to appreciate just how great a trip it is.
Close to Moab the trip couldn't feel more remote. Stunting scenery, rapids that are fun but not scary, great riverside beaches and a variety of plants, animals and geologic wonder make this the perfect way to spend a day in Moab.
Everything about this trip just feels right. What I mean by that is this. Right about the time you would wish for something new or different to happen it does. The ride to the put-in, at about 30 minutes, is perfect. The speed with which we get rafts on the water and people into them, perfect. The rafting before we get to lunch, the lunch stop, the rafting after lunch, the spacing of the rapids, the changes in scenery and the drive back to town, all are just right. Not too long, not to short. With water temps during the summer months in the 70's there is no better place to spend a hot day than laughing, splashing and swimming down the Colorado River!
I have had the opportunity to run most of the 1 day rafting trips in the West. Each time I do I hold the experience up to our beloved Fisher Towers section and compare the trips. Idaho, Wyoming and Colorado all have rivers that are unique and fun. But what I have realized is that although some may have bigger rapids, few if any are more perfect in time and variety than what we have here in Moab.
Come run this gem with us and you'll see what I mean!
Carl,
Owner RRA
Here's the new edit from The North Face for the #seeitforyourself series that we helped with production and rigging for.
We couldn't be more happy about our 2014 Tripadvisor award. Our past guests say it best. Great guides, incredible trips and memories that last a lifetime are all a recurring theme in our online reviews. Thanks to those that adventured with us and took the time to tell others.
There are few places on earth that I enjoy as much as the beautiful mountain town of Ouray. Incredible scenery, friendly people, natural hot springs and, of course ICE!
The Ouray Ice Park is an amazing place to climb. Join RRA for a weekend of Ice Climbing in this world famous venue. All equipment is included through generous support from Petzl.
Here's the details as always call with further questions or to reserve a spot.
Ouray Colorado! – Clinics
---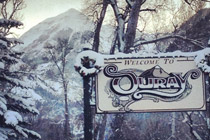 Mid-winter clinic
February 1 & 2
Difficulty – Easy to Hard | WI2-WI5
Days – 2
Minimum age – Varies
Venues – Ouray, CO
Meets – 7:30
Dates – Feb 1-2
1 Person $350
Join Red River Adventures for a weekend of Ice Climbing, fun and friends. Ouray, Colorado is one of our favorite places in the world and we couldn't be more happy to introduce you to this special place. The weekend will feature climbing on a variety of different ice routes and the will be the option to explore the world of mixed climbing and learn about Ice Protection and anchoring. Level of climbing and/or instruction is tailored to your level of experience. 
more details
All technical equipment is supplied through our sponsors. Lodging and transportation are the responsibility of the participant.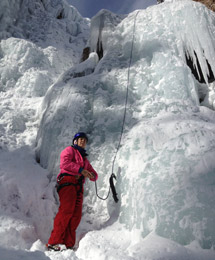 Climb Like a Girl – Ice
February 8 & 9
Difficulty – Easy to Hard | WI2-WI5
Days – 2
Minimum age – Varies
Venues – Ouray, CO
Meets – 7:30
Dates – Feb 1-2
1 person $375
RRA is proud to work with Carolyn Parker and her Climb like a Girl program. Carolyn is an AMGA certified rock guide and founder of CLAG and Athena Fit. We have been CLAG'ing for almost a decade in Moab, Indian Creek and Ouray. This weekend clinic is always a highlight of the winter. Incredible climbing, the highest caliber instruction and a real sense of community all combine to make these weekends special.
more details
All technical equipment is supplied through our sponsors. Lodging and transportation are the responsibility of the participant.
*Guided by Suntoucher Mountain guides.

---
---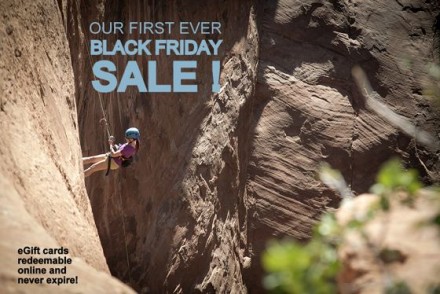 Give the gift of adventure and save!
eGift cards available ONLINE
11/29 at 25% off!
Cards can be redeemed online or over the phone and NEVER expire.
Balances are tracked by our system and can be checked any time.
So what will it be? Another boring gift that gets lost in the shuffle
or fun and memories to last a lifetime!
We are happy to share the news that TripAdvisor has named Red River Adventures a certificate of excellence winner for 2013.
Since 2007 our customers have been sharing their thoughts about our incredible trips on TA. 7 years, over 200 hundred reviews and 5 stars later we couldn't be more happy to have received the recognition from the site itself.
A great way to spend 1 minute. Watch and be inspired.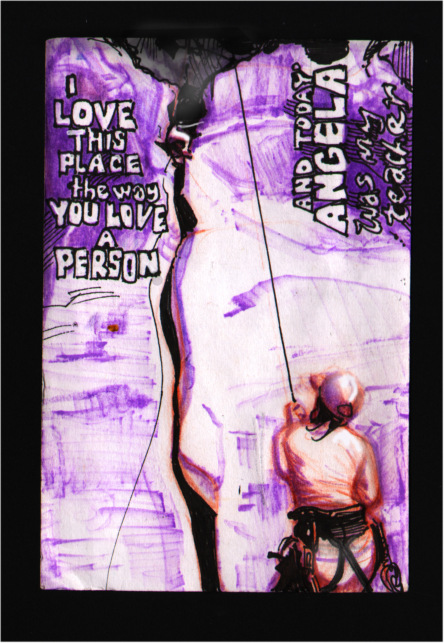 We recently had the pleasure of spending some time with the talented artist and returning guest, Cynthia Martin. She joint us last year on a Moab rafting trip. Impressed with the Fisher Towers section she returned this spring to pass some time hiking and Rock Climbing in the Moab area before returning later this August with a group of friends. She is best now as a comic book artist and  illustrator. I couldn't be more happy that she took the time to do this piece.
We've been working on video of our adventures and here's preview of what we've got for our Morning Glory Canyoneering trip.
This spring we were tapped to help Sperry put together some video for the new Son-R shoes. This video shot on the Fisher Towers section is the result.