Blog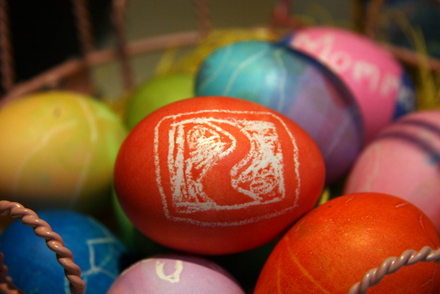 We are in our 5th week of operations for the 2011 season and it has been fantastic. It's starting to warm and the Colorado and Dolores rivers are rising.  Utah rafting near Moab is already off to a great start.
So far this season our returning guides have busy. We have had rock climbing clients summit Ancient Art, rafters enjoy our Fisher Towers overnight and day trips and rapelled through our Morning Glory Canyoneering route. The rest of our full time staff of 17 is slowly returning from winter's spent exploring skiing, grooming, rafting in warmer locations, mushing dogs and seeking higher education. Guides re-training is the first week in May and after that it is full tilt adventure.
So on this Easter Sunday I just wanted to take a second to wish everyone out there who might see this a happy Easter and a great summer.
After a bumpy start with a very cold wet November and a warm and dry December the Utah Ice season is finally off and running.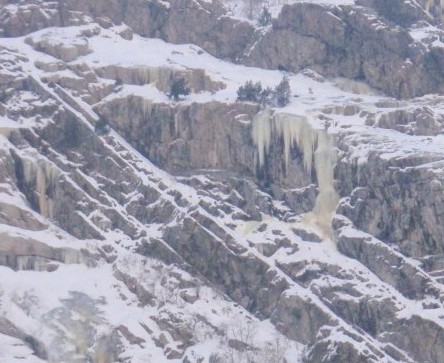 I spied this at the very bottom of Little Cottonwood Canyon and hadn't ever remembered it forming. A quick look at Mountain Project yielded no information. I knew that another nearby small flow had been FA'd in a recent winter. Protected by some mixed climbing I thought we might have a shot at doing a new route.
I had a partner lined up for Saturday so Friday afternoon I hiked to the ramps that led to the base of the pillar.  There were no other tracks and on my way out I covered mine. There were still a few hours of daylight left and I didn't want to get scooped.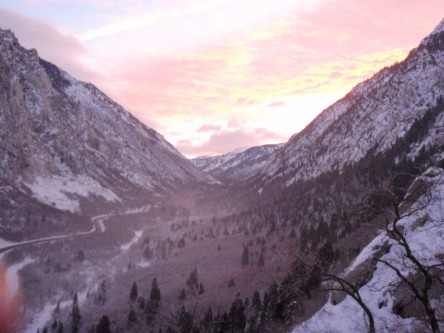 6AM is always a tough time to get out of a warm bed. Especially to go hike in the dark and stand in the cold but the sunrise found us at the base of the rock and within a short mixed pitch to the base of the Ice.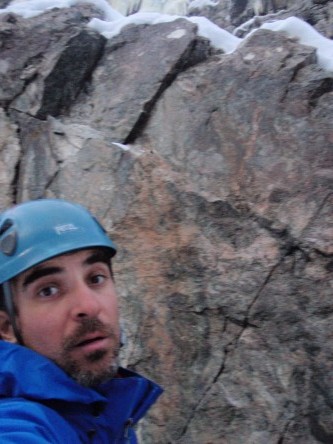 Easy but insecure slabs went down fairly easily and I was at the base.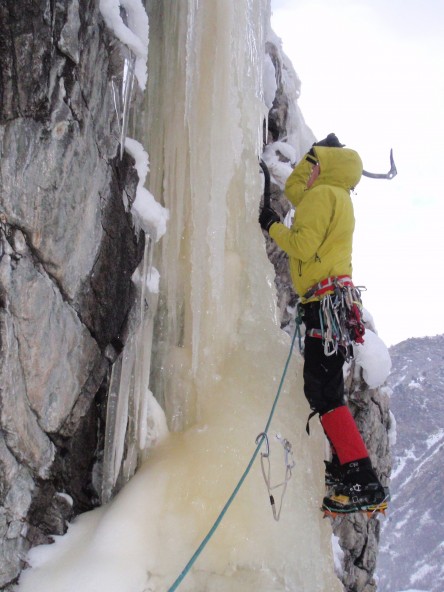 Nate lead the pillar of beautiful yellow ice to the trees that we planned on rappelling from and……. that had slings from a previous ascent.
No new route but a fine adventure on new (to us) ice and a great way to start the day.
I just got the first 2011 stream flow forecast and things are looking great. The drainages that provide water for our Utah rafting trips received 150% of average snowfall in December which means that even if we have an abnormally dry month stream flows will be at least normal. If we stay in this storm track the forecasters are talking run off levels not seen since 1997, way above normal.
What does this all mean.
First, our Dolores River trip will be incredible April thru early June. The Dolores is one of my favorite river runs. Technical rafting in a desert setting is not the norm. The Dolores serves this kind of rafting up in buckets.
Second, the Fisher Towers will be incredibly fun and really big. Don't let this put you off. This section is easily customizable buy simply either missing or hitting the big features encountered along the way.
Third, Cataract Canyon will be huge in May and June. One of natures spectacles, the rapids on this trip are some of the biggest in N. America.
No matter if you have 1 day or a week we have a trip for you and it looks like this is going to be a year to remember.
Well after years of thinking about and now months of development our new site is live. There's still some work to do but the majority of the heavy lifting is complete. Clean and easy to navigate with lots of photos of our great Moab rafting, rock climbing and canyoneering trips I am super excited about the launch.
Here's some good news. The NPS has begun offering online reservations for the Fiery Furnace hike. One of the best ranger led activities I have ever done. No one better to see this magnificent area with than a NPS ranger. The ranger I went with was studying the Fiery Furnace for a PHD.
To see a description and book online check out recreation.gov
This hike is a great one to combine with a day of Moab rafting or rock climbing.
We are scheduled to kick of 2010 operations in less than a month. Call now to reserve your adventure. (800) 259-4046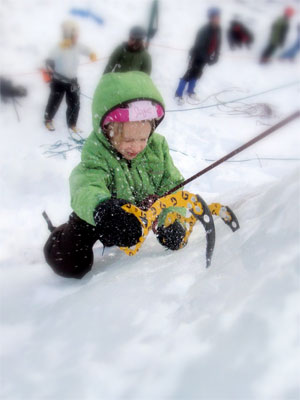 This is a photo of my girl. Emma getting it done at the Kids Wall, Ouray, CO. 1st Ice Climb ever.
This past weekend we got to return to one of my favorite places, Ouray. A quintessential mountain town with unpaved streets, cool architecture, Hot Springs and great Ice Climbing make this a place I miss the moment I leave.
It's always great to play in the snow that will become our summer time play ground, the Colorado River.
The Moab rafting season is right around the corner. Pray for snow!
Wow!
That was what I call a breather. 8/15/09, the last blog post that was written. Since then we've put the lid on our best season ever, rafted the Grand Canyon, hosted another AMGA SPI course, done some traveling and been skiing and Ice Climbing.
It's 2010 and there's plenty of rafting, climbing and canyoneering to be done. Hard to believe that the season opener is only 2 1/2 months away.
As of 1/1/10 snow pack numbers are about 90% of normal for the Colorado River Basin. This is good all we will need is near normal precip in the mountains of Colorado and we'll have another fun and exciting year on the Colorado River.
Found this amazing video that the Moab Travel Council put together, enjoy.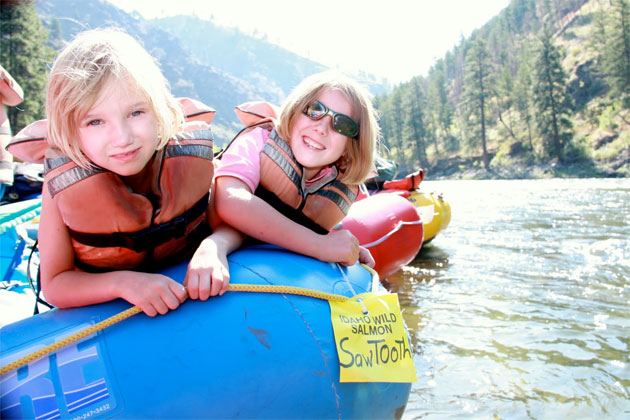 Red River wants you to join our good friends at the Sawtooth Adventure Company on thier final float through the Frank Church Wilderness this summer. You will experience fun rapids, huge sandy beaches, amazing food and complete relaxation only found on Idaho's famous Salmon River.
In an effort to end the 2009 season with a bang we are offering the best summer travel deal around…..$795 per person ($300 off) includes:
4 night Wilderness Rafting Trip that includes all food, river & camp equipment, and amazing scenic flight over the largest wilderness in the lower 48.
Scenic charter flight back to Salmon at the end of the tripThe trip will meet at the Salmon, Idaho airport at 5 PM on Aug 20th.
You will be flown back to your vehicle via an amazing scenic flight on August 24th.Give us a call to take advantage of this unheard of travel deal
Going to the grocery store was so much easier than it used to be.
It dawns on me today as I juggle 5 empty gallon water jugs, 5 lids and 2 re-usable shopping bags, wallet and a blackberry that I carry almost as much into the store as I do out of the place.
In my drive to be green I finally remembered the freakin tote bags and the water jugs that we reuse so we don't clog the landfill and because we can't drink the water that flows from the tap and I forget the shopping list.
Tough enough when I had to remember the list, everything on it and to grab all my bags as I left the store (come on you know you've left groceries you just bought behind) now I've got to have a check list of things to take TO the store.