Blog
Well that sure was a quick 2 months. A blur of rafting, climbing and canyoneering with people from all over the world. What a season we and Moab have been having.
I just want to take 2 seconds to say, thanks to those that have shared an adventure with us so far in 2009 and come on down to those who are thinking about it.
The river is still at levels that we didn't even see in some of the worst dought years and the scenery that surrounds our rock and canyoneering routes is spactacular as always.
Our 2009 guides are doing a fantastic job, keeping people safe, sharing what they know about the sports we do and the area in which we do them. I've heard more than a few times this season that the time spent with Red River Adventures was the very best of the entire vacation.
Patagonia sells a T-shirt with the words "live simply" and pictures of seals and whales and such emblazoned on them for $30.
Does this strike anyone else besides me as ridiculous?
Living simply would not, by any measure, include buying $30 T-shirts.
This is one of those posts that has been sitting on my hard drive, 0's and 1's, since last September. Two accidents in about as many months left me thinking about doing what we do. It's been revisited, tweaked, but still hidden until now. Why? This last weekend we lost a Friend and an employee and now just seemed like the time to let this fly.
It's a strange thing when someone you know dies. It a far stranger thing when someone your age who is vibrant, strong, and who has plans similar to you own dies. Stranger still is that around here this dieing happens, all too often, and while playing.
When I moved here in the late 90's I did so with the pictures I'd seen and the stories I'd read in magazines filling my head. Wonderful stories of huge powder days, remote rivers and beautiful rock climbs all done with close friends. There were also stories of tragedy and loss. Stories of avalanches, mistakes made in very high places and of the undeniable power of water and our inability to breath it, all taking close friends and leaving the world a little more empty.
Both sides of this coin seemed so remote to me when I left the East to come here. The mountains were a far off place that I was sure I would visit like a tourist, observe and then likely leave. I couldn't picture myself being a part that world and the culture that I'd so often read about.
I've been here 11 years now and in that short period of time have been witness to my own stories of both bliss and tragedy. Fortunately the, can't wipe the smile from your face, great times I've gotten to experienced first hand. The wipe your mind clean sad times, still to this day, through one degree of separation.
I can remember the first time a close friend of a friend was killed while playing. I'd been in the mountains for 2 years and through a weird set of coincidences I met and become friendly with those very guys I'd read about while living "back East". The stories of folks that filled the pages of the adventure mags had become people I knew and did things with.
It was one of these magazine worthy adventures that prompted the need for the first "slide show" that I would attend. An avalanche had occurred during an expedition to the mountains halfway around the world, two miles higher than were I currently sit writing this. Snow had moved and lives had been lost. My new friends had come home broken and I went in a show of support.
The Slide show is the mountain equivalent of an Irish wake. Folks get together and look at pictures of the lost friend and his or her exploits. Alcohol flows, stories are told and for a brief period I don't think it hurts so much.
At first it was easy to disregard these occurrences, after all I'd only just arrived. I was still getting the lay of the land. I didn't think of myself as a climber or a boater or a real skier. Since that night there have been many more slide shows. They are results of drowning, avalanche, misstep, equipment failure, poor judgment and poor luck all while playing. Pretty much the same story over and over. Tragedy always happening to someone I'd met but not really gotten to know. This made the loss real but somehow distant. I still felt like a tourist, observing from the outside, not really a part of the picture.
But now as time, and more people have passed I no longer feel like I'm am an observer. I realize I am part of this shrinking tribe yet I continue to play. As I sit here I can't tell you exactly why I do so. I'm really not sure how I and others deal with the reality that playing can not only get you hurt but may actually kill you. A few have thrown in the towel. Most are still out there. Some have backed off, some continue on as hard charging as ever.
We've just lost another one. Someone I knew fairly well and I wonder if maybe, just maybe I should be watching the world series instead. Is it crazy to continue to do the same things that have been thinning my herd for a decade? Probably but if I or any of us stops isn't it a bit like dieing anyway?
RIP.
This past weekend myself, Landon, Chelsea and our good friend tommy went out for a quick lap of our wondeful Morning Glory Canyoneering route. 350 pictures taken yielded these 16.
What a way to spend the morning. Join us for a hike you'll never forget.
Carl
A friend emailed me a link yesterday. I got it while skiing. I knew it wasn't going to be good.
Shane McConkey 1969-2009
RIP
What do we do when we aren't guiding rivers or rock?.?.?
We rock climb and run rivers.
Well that's it. Winter's over.
It might be snowing where you are and admittedly is cold here but winter's over.
Our first booked trip is for March 31st which means that the 2009 rafting season starts in only a few weeks. To be ready for the 31st means that we start NOW!
Getting boats out, cleaning gear, making changes and improvements all the things that have to be done behind the scenes start now.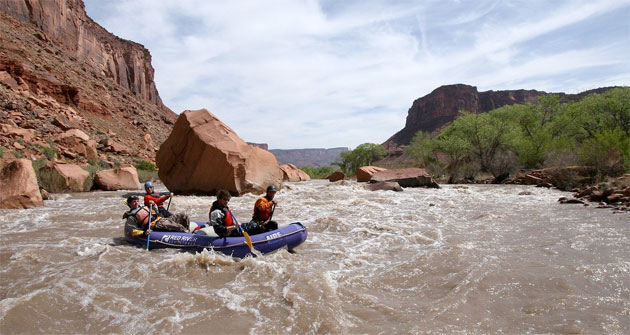 I know I keep saying it but this summer should be good. March 1st numbers are above average, 115% of normal, and with more snow predicted water levels should be great.
Reservations are ahead of last year and we've already sold out several dates in June and July.
With new rock climbing and canyoneering options guided by the same great people that take you rafting there's no need to look anywhere else for Moab Adventure.
Longing for some warmer temps, long routes and easy climbing to shake out the cobwebs from a long winter I put together a last minute plan to head to Red Rocks for some fun.
3 days, 3 or 4 routes with an estimated 25+ pitches all under 5.9 were on the menu.
What unfolded was not in the plan at all.
Day 1
Rain.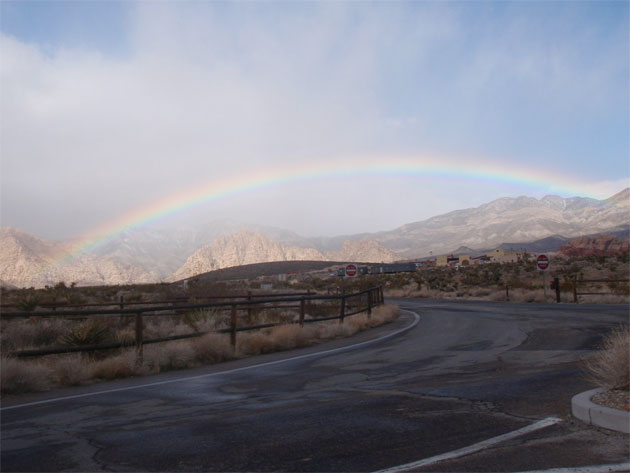 This although pretty is not something you want to see before heading out for a day of desert rock.
We did mange to get in a two pitch climb during the only break in the clouds.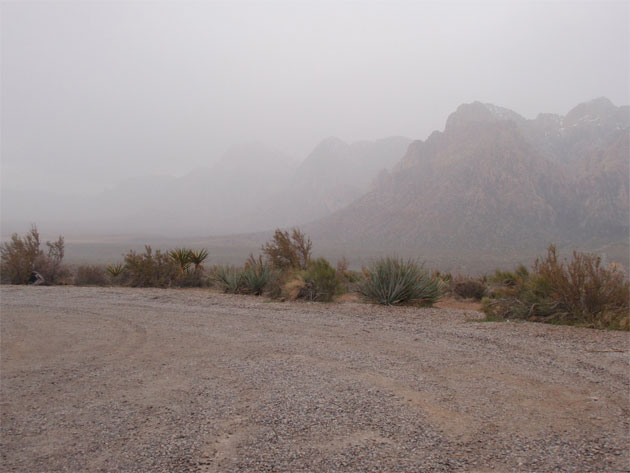 But then this moved in and we were shut down for good.
You might ask? What next. Well, being well trained and forward thinking outdoor professional we had of course brought along all the things you might need in an emergency. Food, water and adult beverages all laid in for just such a situation. Obviously there was only one thing to do, hit the emergency supplies, hard. Later deciding that shelter was in order we headed to the Bonnie Springs Ranch for food and beverages that didn't come from a cooler. After much food and drink, meeting Bonnie and seeing freinds who live in Vegas it was time to go, they were closing. Closed a bar in Vegas…enough said.
Pitch tally 2
Day 2
Not so much….and no pictures.
After a rather long nap in the Pine Creek parking lot which prompted quite a bit of conversation among some of the other visitors to Red Rocks we managed to get off at the crack of 1PM. We hiked to what we were sure would be an empty Cat in the Hat to find a party, only slightly more lazy than us, just leading off on pitch 2. We decided to head up. Ooppss. Climbing hurt much more than hiking and with a pinch of hot afternoon sun I, well, I wasn't feeling "tip top".
After catching the party above at the bottom of pitch 3 we decided to call it a "DAY". Down we went. Pitch tally 4.
Day 3
This is what we came for.
** Video Missing – Would Not Transfer**
Steep and fun, classic Red Rocks face climbing, steep jugs, 580′ of a rock climbing "powder run".
These 5 pitches would have been worth the drive.
Pitch tally 10.
The trip didn't unfold the way I thought it would but it will be one I remember for ever.
The February snow pack numbers are in and things are looking great. The Colorado River basin is 123% of normal above Moab. Combine this with the fact the reservoirs are about 1oo% of average as well and we are virtually assured that the water levels on Fisher Towers and Cataract Canyon will be great, making for truly exciting Moab rafting trips.
The Dolores River basin is 116% of normal and reservoirs storage is 105% of normal. This is more than enough to count on this amazing river section to run at great levels in 2009.
I just got the Colorado River basin Forecast report for January.
The mountains up stream of Moab are at 125% of normal snowpack. This is fantastic.
I know that we've got plenty of time for it to stop snowing or for it to get warm and for the snowpack to go away but for now it's more snow on Jnauary 1st. than any time since 1997.
Moab rafting is gona be good, let's hope.