Blog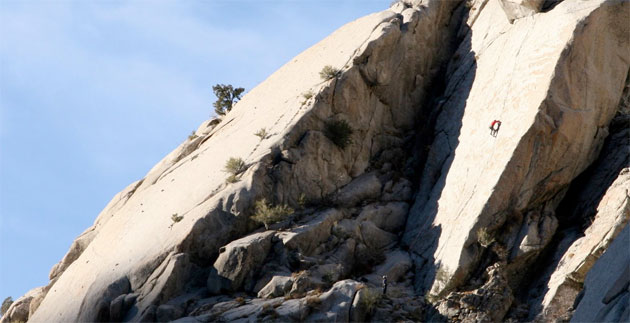 I had the pleasure of seeing these climbers on Little Cottonwood Canyon's Coffin Crack, 5.9 while driving down from Alta yesterday.
Winter is holding off so folks are getting out and climbing in the sun.
December 1st. That was a quick month or so.
The posting of the "obs" thread may have been a bit too early. I sit writing this as our snowpack continues to melt, rot and evaporate. The Park City resorts have opened but are skiing man made snow.
Why so much about skiing?
Well we love it and more importantly the snow we slide on in winter becomes the river we run in the summer.
The good news is that the Colorado Mountians up stream of our Moab Rafting headquaters are getting more snow than the Wasatch outside SLC.
Off the the mountains.
Pray for snow.
There are certain things that happen each year that mark the changing of the seasons. Flowers bloom, leaves change, the temps drop, folks around town start wearing bennies, the first flakes fly and one of my personal favorites WOW starts the new "obs" thread on Telemark.com.
WOW, as he is know, is a person. Bob Athey or the Wizard of the Wasatch has for years started the unofficial/official depository of backcountry trip reports and observations for the Wasatch.
Well the leaves have changed, I've indeed got to put on a beenie and the thread has been started.
Pray for snow!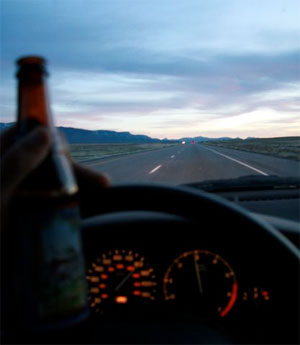 I'm often asked, how long does it take to get from place to place. LA to Moab, Las Vegas to Moab, etc. To be honest I don't know. When I'm on vacation I drive slowly, get sidetracked easily and generally tend to wander around. So when folks ask I usually let Google give me the answers, everyone should. Google maps is great. Type in the town you're leaving from and going to and bam you've got total milage, a map and a guesstimate of the time it will take to drive it.
This time estimate is, of course, the actual time it takes to drive the route not stop and pee or get lost, read those roadside interp signs, sight see or eat. These can all add alot of time to a trip.
Well a Friend of mine just reset the bar on how long it takes. Over the Labor day weekend, drove from Trenton, NJ to Park City, Utah in 2 days. This is a journey that, back in the days of the 55 MPH speed limit, would take my dad 5 days to cover as we headed west on our family vacations.
He left at 7:30 AM on Saturday and arrived Park City at 8PM on Sunday. 2 days, 2142 miles and I can't imagine that there was any stopping for any of the things that I mentioned along the way. So next time your wondering how long it takes check out Google Maps and know that it is possible to roll through 1071 miles in a day.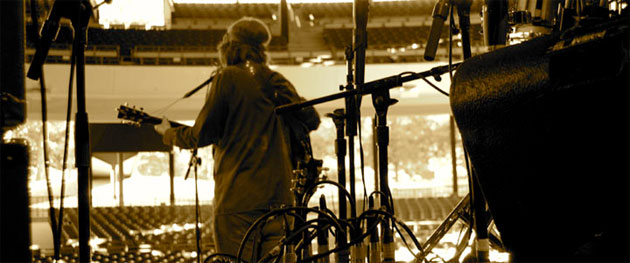 Had the oppritunity to see John Mayer in SLC recently. I get to see a college buddy of mine that works for JM and each summer we get the chance to catch a show and I get to reconnect with one of the few folks that I stay in touch with from that chapter in my life.
The real bonus this year was catching Brett Dennon opening the show. Check it out.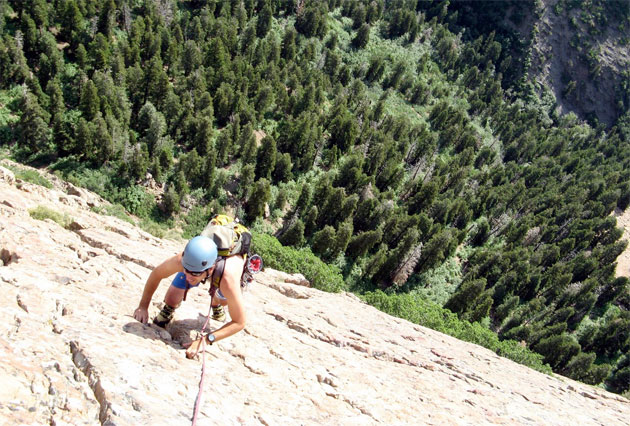 My 4th of July vacation happened in the early hours of July 6th. I went to Big Cottonwood Canyon, Mule Hollow wall and linked Down, Dirty, Doublecrossed, 5.7 430 feet and Implorien 5.9 200 feet.
Up at 5:30 AM, meet Dan at 6 on the route by 7AM after about a mile and 1200 vertical feet of approach.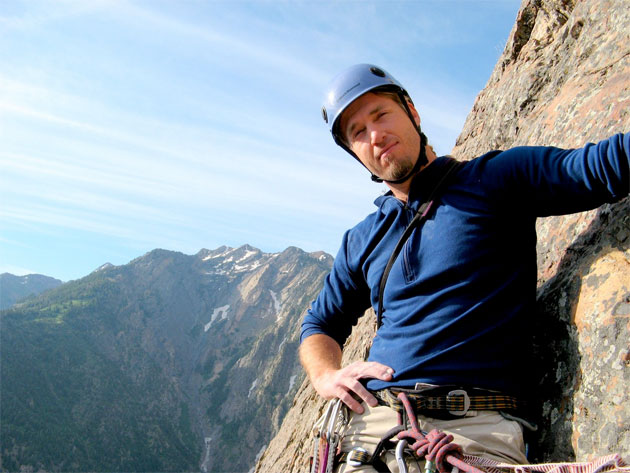 Sunrise happened some time during the first or second pitch. Beautiful rock and views of Stairs Gulch for the next hour or so keep us content and make the "evil StairMaster" approach worth it. 2 and a half double rope rappels gets us back to the ground. A short walk and we are heading up again on Implorien. More great stone and a trail of bolts gets us to the top and we rap. Back on the ground again we suck down some water, eat an apple and run out to the car.
6 pitches, 4 rappels, 2 miles, 2400 vertical feet of up and down approach and 4 hours and 27 minutes and we are back at the car. 4th of July celebration complete.
For the grade I don't think that rock climbing in the Wasatch gets much better.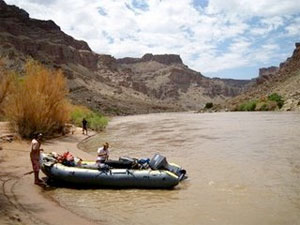 Imagine my surprise when, at 6 PM Sunday, I walk into the office and a camera crew, sound guy and the artist Kenny Harris are standing there rolling film. This is the last time in the next 24 hours that things are remotely normal.
My first thought was that my wife had finally, after years of threatening, signed me up for some TV show.
Turns out Kenny is an artist who has, for the last 32 days, been making his way across the country trading the art he makes for food, transportation and lodging. NY to LA on only what he can get from his art.
Kenny wants to incorporate some rafting into his journey and after some time I concoct a plan to run him through Cataract Canyon in a day. This will get him 120 miles closer to LA. This plan involves running 29 0f the biggest rapids in N. America and traveling from 8AM til 6PM or so in a "sport boat". These are basically dingies on steroids. After some convincing the production crew is "in" and departure is set for 7 AM.
The day is a blur of red rock canyons, blue sky and clouds, HUGE rapids and the camera. The camera followed us everywhere from the office, to the bar (only to finalize plans), launching the boat, running down river, making lunch, running rapids and finally, to the middle of no where in the hot the desert, saying good bye.
The show air's in October. I wonder what I'll look like on TV?
I think that Kenny's blog does a good job of capturing the day, check it out.
Well spring has sprung and summers right around the corner. The melt has started and the Colorado is running high. Here's a recent photo of the Class II Rocky Rapid.
The BIG hit. We're havin fun now.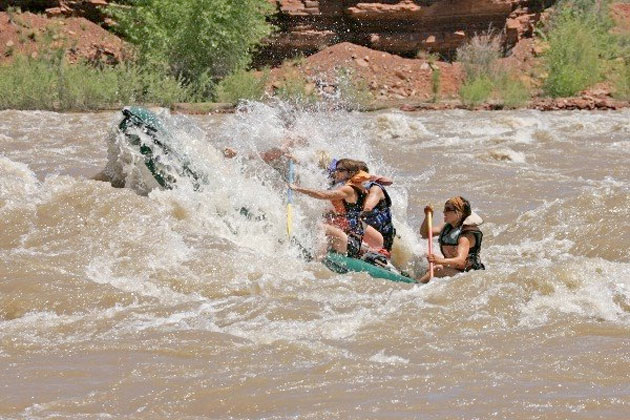 Wait a minute, that doesn't look right!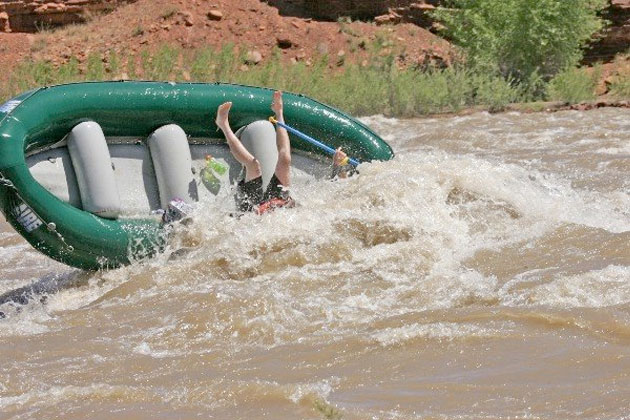 I hope this answers the question, "will it be exciting enough".
NOTE: **No humans were hurt in the rafting of this river.**
While spending a little time in Salt Lake City, a place that many of our Moab rafting clients pass through, I ended up at One World. I heard a few of our guides talking about the pay what you think you should policy and how good the food was and decided to see for myself.
Check out the website and go for the food. In a word, GREAT.
Don't forget to finish with a cup of organic coffee and a piece of the "everything" cookies. Never has organic anything tasted so good.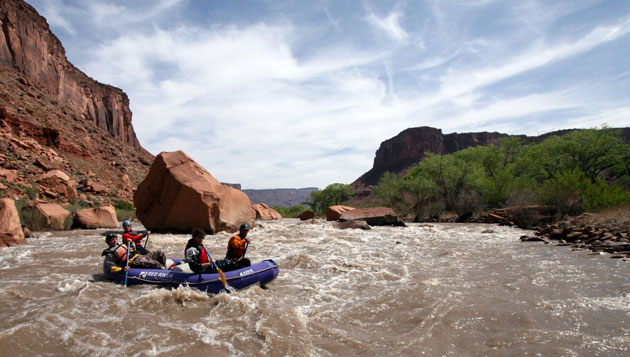 On the 27th of April the 2008 crew of Red River Adventures embarked on a 3 day Utah rafting trip that was fantastic. 13 of the Riverpeople launched at Gateway, Colorado for the 2008 kick off Dolores river run. Along the way we discovered that you can fly into Gateway, new pictographs, and that Charlie can fly but doesn't land so well