Reality Rafting Hits Moab, UT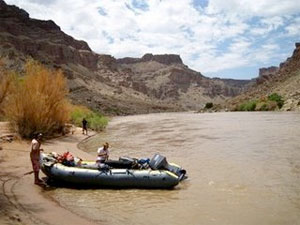 Imagine my surprise when, at 6 PM Sunday, I walk into the office and a camera crew, sound guy and the artist Kenny Harris are standing there rolling film. This is the last time in the next 24 hours that things are remotely normal.
My first thought was that my wife had finally, after years of threatening, signed me up for some TV show.
Turns out Kenny is an artist who has, for the last 32 days, been making his way across the country trading the art he makes for food, transportation and lodging. NY to LA on only what he can get from his art.
Kenny wants to incorporate some rafting into his journey and after some time I concoct a plan to run him through Cataract Canyon in a day. This will get him 120 miles closer to LA. This plan involves running 29 0f the biggest rapids in N. America and traveling from 8AM til 6PM or so in a "sport boat". These are basically dingies on steroids. After some convincing the production crew is "in" and departure is set for 7 AM.
The day is a blur of red rock canyons, blue sky and clouds, HUGE rapids and the camera. The camera followed us everywhere from the office, to the bar (only to finalize plans), launching the boat, running down river, making lunch, running rapids and finally, to the middle of no where in the hot the desert, saying good bye.
The show air's in October. I wonder what I'll look like on TV?
I think that Kenny's blog does a good job of capturing the day, check it out.