Our Favorite Places to Eat in Moab, Utah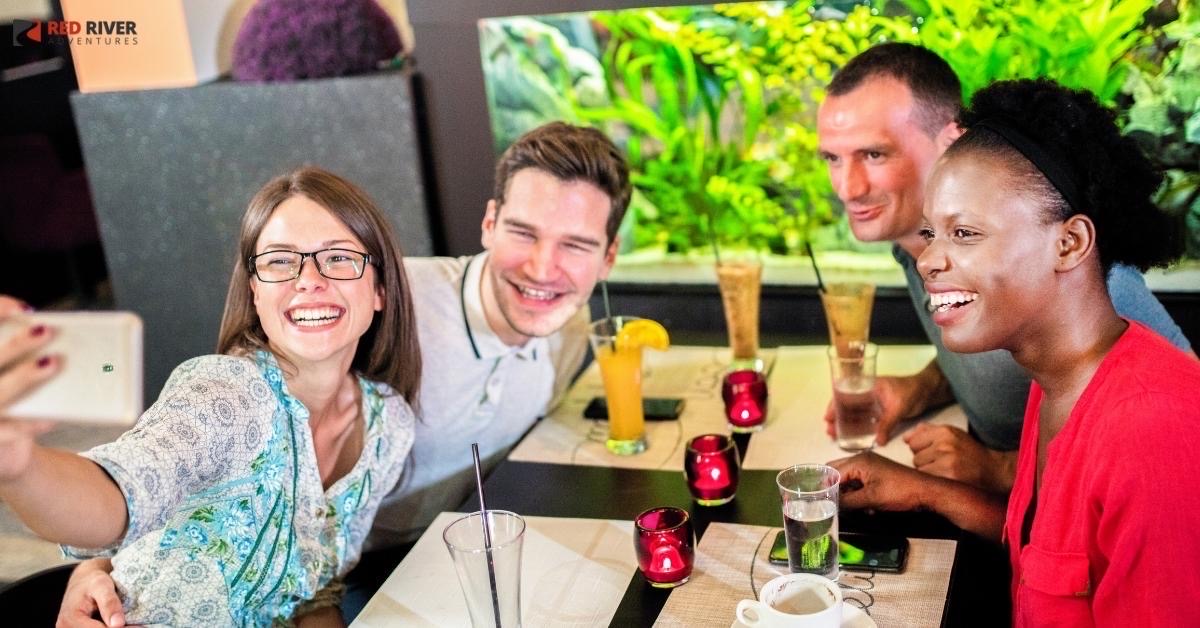 Here's our shortlist of favorite restaurants in Moab Utah
Zax
Enjoy hearty food in a relaxed atmosphere at Zax in Moab. Choose from a huge selection of local Utah beers, take a walk on the wild side with the Pickle Fries appetizer, then dig into the famous Zax Burger loaded with bacon and avocado. They have extensive patio seating to take in the views, and are conveniently located on Main Street.
Moab Brewery
The Moab Brewery is the place for a bit of adventure in craft beer sampling after a long haul on the trail or river. The brewery offers a wide selection (around 14) of delicious home brews. The establishment's award-winning beer is not the only reason to sink into a chair and settle in at the brewery for the evening. Their delectable dishes are imaginative and delicious complements to the beer. Try the grilled artichokes, and anything that includes the applewood smoked bacon. It's on everything, and that makes sense because it's that good. It's no wonder the Moab Brewery has become the most popular spot in town for the trail-weary set. Cooking from scratch, cold home brews in abundance. What else is there to want?
The Blu Pig
When you need to make up for lost calories, there's The Blu Pig. It's fair to say the ribs stand up to anything else claimed as the best barbeque in Utah. The Pig's proprietors take great pride in their specialty rubs and brines and multiple scrumptious sauces. And, they just know-how. The years of experience show up in their slow smoking process and selection of local fruitwoods that take the flavor infusion to another level of barbecue. The tender meat is ideally moist and smoky. Their side dishes are mostly home recipes, all good. Come for the barbeque, stay for the only live music in Moab that's available 7 nights a week. Make a night of it! The bar's right there, and the whiskey selection is extensive.
The Broken Oar
The Broken Oar is authentic Moab; rustic, homey vibe, and superior service. The Broken Oar is the right place to satisfy a well-earned appetite with luscious, savory meats, barbeque favorites, and world-class burgers. Be sure to include the Oar's signature Sweet Potato Fries. Gaze at the monumental menu of sandwiches, including that one with applewood smoked bacon piled on brisket piled on pulled pork. Yeah, that's not for dieters. Give the Oar's high-end versions of classic Tacos or Quesadillas a chance. You won't regret it. The steaks are tender and overall pretty magical. But, many of us could just live happily on the cornbread with honey butter.
Miguels Baja Grill
Here's where all the great seafood is hiding in Moab. And, wait for it — it's also where some of the finest traditional Mexican food in the United States is made to order from scratch! Pick any beer brand from south of the border; they've got it. Or, relax with one of Miguel's various specialty margarita selections. Miguel's Baja Grill is known for using only the freshest ingredients and for providing an exceptional dining experience with a quaint Baja ambiance. So, just enjoy life while your favorite genuine Mexican cuisine is prepared for you from traditional recipes using timeless methods. ¡Que Comida!
Thai Bella
The chef at Thai Bella knows people need great Thai food gorgeously presented. Head straight for the lovely, relaxing outdoor dining patio. Go for the Khao-Soi, an adaptation of popular Thailand street foods. It's egg noodles, in yellow curry sauce, and it's topped with those crispy noodles, onion, cilantro, and your favorite meat option. Or, have the Roasted Duck. Oh, man! It's half of a duck utterly perfectly cooked. You can have it topped with cashew nut sauce, or red curry, or Thai basil sauce, per your mood at the moment. Also, check out the Choo Chee curry sauce over chicken or shrimp, with its scrumptious side dishes. Or, just try anything featuring one of Bella's array of different curry sauce recipes. (Oh, mind the limited hours: Thursday – Tuesday 3:00 – 9:30 and first-come service policy.)
Red River Adventures – We Love Moab!
We provide Moab Utah's most fun and exciting guided adventures. Red River is the only guide service in Moab, Utah with legal permits for guided hiking, rock climbing, canyoneering, river rafting, and other outdoor sports. For fun excursions or multiple days of exploring wilderness wonders, we know where all the great Utah outback experiences are to be had! All our guides are certified through the American Mountain Guide Association.
Red River Adventures has been repeatedly selected for the TripAdvisor Hall of Fame.
For information on guided adventure trips in amazing Moab, Utah, call Red River Rafting at (435) 418 2156, or contact us online anytime.