Our Boats
Customize Your Moab River Trip Adventure!
Red River Adventures uses only the newest in self-bailing rafts and equipment to provide you with an unmatched river experience! Paddle rafts, oar rafts and inflatable kayaks are available for every day trip. NOTE: Oar rafts and inflatable kayaks must be reserved seven days in advance.
Paddle Raft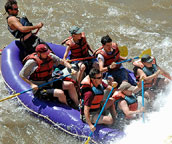 This is the raft that has built Red River! Everyone paddles! Captained by one of our professional guides, you are part of the crew and must maneuver the raft on your trip down the river. Enjoy the rapids and the camaraderie created by paddling together. Our rafts hold a maximum of 6 to 8 guests, and this often ensures your group its own raft and guide for the day. Which is kinda nice.
Oar Raft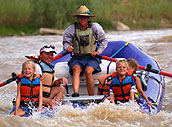 This option balances the all-out adventure of a paddle raft with the tradition of an oar boat. The guides do all the rowing, you have all the fun. A perfect choice for those who may want to sit back and relax a bit. NOTE: Oar rafts must be reserved at least seven days in advance and are subject to availability!
Inflatable Kayak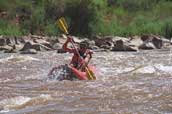 Looking to squeeze a little extra excitement out of your river trip? Inflatable Kayaks are the way to go. You control your adventure by tackling the rapids in your own boat. First-timers are welcome; our guides will provide instruction prior to your launch. NOTE: Inflatable kayaks must be reserved at least seven days in advance and are subject to availability!
Kayak/Canoe/Raft Instruction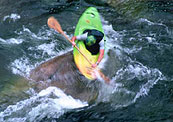 If it's your first time in a whitewater canoe or kayak, or if you're trying to break through in your paddling, our instructors can help.
Have you been rafting with friends and want to lead a trip of your own, but aren't sure you've got the knowledge? Let Red River Adventures teach you the skills necessary to get you out on the river. Our instructors have a wealth of knowledge and are eager to pass on the experience they've gained by doing what they do best. From menu planning to rigging a raft for a big day of whitewater action, we can help! Our instructors are ACA-certified and will teach you the skills necessary to participate in the most exciting aspects of paddle sports.
Being owner-operated gives us the ability to customize your experience. Stop wondering if it's possible; pick up the phone and give us a call. We'll be happy to discuss your needs, what it is you hope to accomplish, and help you pick a time to get out on the river.