Guided Canyoneering Trips in Moab, Utah
Canyoneering in Moab
The 2021 canyoneering season is here!
Moab Canyoneering routes are all about fun. The landscape surrounding Moab, Utah holds wonderful surprises for those with a sense of adventure. Beautiful water-carved canyons, inaccessible without technical skills, await your discovery.
Since 2005, our professional, AMGA-certified Single Pitch Instructors have been introducing people to these amazing Moab Canyoneering routes. We back up every rappel on a separate safety system, so these trips are for anyone with a bit of fitness and a sense of adventure. Join Red River Adventures for the best guided Moab tours!


more details
NOTE!
On Bow and Arrow, Morning Glory and Chamisa canyons, there is NO option to go around the rappels or return to the office. Please be certain that you, your children, and all members of your group will be able to complete the rappels before booking.
Chamisa can be completed by doing a 10′ rappel. The second rappel IS optional. Please call us if you have questions about the commitment required to complete these trips.
Check out video of the trip!
Bow and Arrow – Most popular!
This secluded canyoneering and rappelling adventure is just a short drive from Moab! Bow and Arrow is a dazzling and seldom-visited canyon, possessing views of dinosaur tracks, petroglyphs, and the stunning 80-foot Long Bow Arch. It's a visually diverse outing with four rappels, including a free-hanging rappel of 110 feet (33 meters). Big views of Moab's famous sandstone fins and the La Sal Mountains make this an excursion you won't soon forget!
During the trip, our AMGA-certified guides will set the tone for an exciting and educational day, focusing on teamwork and–most importantly–FUN!


more details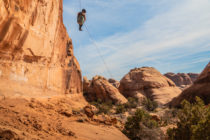 Difficulty – Easy to Moderate
Days – Half-Day
Length – 3 miles (approx.)
Number of Rappels – 4 (up to 110′ / 33m)
Minimum age – 8
Meets – 7:00 AM (June 1 – August 31); 7:30 AM (Spring and Fall)
Adults $150 | Youth $135
Check availability and Book online now!
Morning Glory aka Ephedra's Grotto – A Moab classic!
This 3-mile adventure is only made possible by doing two of the area's best rappels and a bit of scrambling. It's a step up from your typical hike, yet doable by almost anyone with the help of our incredible guides. To be clear: you will be greeted by a 90-foot (27-meter) drop into the abyss.

A short hike across petrified sand dunes will get us to the first of our two rappels (90 feet/27 meters), a stunning drop into a classic, water-carved sandstone chamber and the very heart of the Colorado Plateau. From here, we exit this amazing room through a small slot, with a short section of scrambling and a brief walk to our second spectacular free-hanging rappel (120 feet/36 meters). This rappel affords us an up-close and personal look at the 243-foot-long Morning Glory Arch, which is only feet away from our rappel station.
A downhill hike out to the Colorado River along a cool, spring-fed stream gives our canyoneering guides an opportunity to discuss wildlife, plants, geology, local history and more.


more details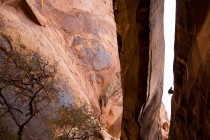 Difficulty – Easy to Moderate
Days – Half-Day
Length – 3 miles
Number of Rappels – 2 (90′ / 27m and 120′ / 36m)
Minimum age – 8
Meets – 7:30 AM
Adults $125 | Youth $110
Check availability and Book online now!

Scenic slot canyons around Moab Utah
Chamisa Canyon aka Entrajo Canyon – Everything a canyon should be!
Current conditions – August 2021: Due to recent monsoon rains, Chamisa Canyon requires wading and/or a short swim in pools of water. Clothing and footwear will get wet!
Tight and technical, this route has potholes, some easy scrambling, rappelling, lots of wading, and sometimes a short swim thrown in for fun. This trip is a favorite of our guides. Exploring this water-carved sandstone slot canyon is a "cool" thing to do for summer fun.

Morning Glory may have the BIG rappels, but Chamisa's draw is the "interesting" nature of the hiking and the water! This is a great option for a hot day and a classic example of a water-carved Utah canyon, with twists, turns and slides among the sandstone.


more details
NOTE: Spring rains and summer monsoon thunderstorms may result in pools of cold water that require wading and/or swimming. Bring a change of clothes! The canyon may be dry in the summer, depending on conditions.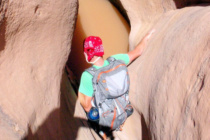 Difficulty – Easy to Moderate
Days – Half-Day
Length – 2.5 miles
Number of Rappels – 2 (10′ / 3m and 90′ / 27m)
Minimum age – 8
Meets – 7:30 AM
Adults $105 | Youth $90
View our Chamisa Canyon Photos
Check availability and Book online now!
Rock of Ages – Our longest route
The best canyoneering Moab, Utah has to offer! This route features 3 rappels, a tight "slot," potholes, some easy scrambling, and views of seldom-seen arches. A hike through this route will leave memories that will last a lifetime.
NOTE FOR SUMMER VISITORS: Prepare for the heat of Moab! Much of this route is in the hot desert sun. Bring 3 liters of water per person, as well as snacks (fruit, trail mix).

This route is a step up in distance and difficulty from our Morning Glory and Chamisa Canyon routes, but it's well worth it for those in good physical condition. This is always a thriller and a favorite of our guides.


more details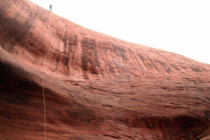 Difficulty – Moderate to hard
Days – More than a half-day (about 6 hours)
Length – 5 miles
Number of Rappels – 3 (160′ / 48m, 100′ / 30m, and 50′ / 15m)
Minimum age – 12
Meets – 6:30 AM (May 15 – September 15); 7:30 AM (Spring and Fall)
Adults $175 | Youth $160
View our Rock of Ages Photos
Check availability and Book online now!
Fiery Furnace – Arches National Park – RIP
PLEASE NOTE! The NPS has decided that commercial guide service was no longer needed and will no longer permit commercial companies to operate in the Fiery Furnace. We are sorry!
Difficulty – Easy to Moderate
Days – Half-Day
Length – 2+ miles of Hiking
Number of Rappels – 0
Minimum age – 8
Meets – N/A
Adults | Youth
Moab Canyoneering Photo Gallery
Photos are shot on the listed routes
FAQ
TripAdvisor 5 Stars
Why Choose RRA? Red River Adventure's online reviews have consistently been excellent. Since 2003 no other company has received such high praise from guests. Water or land our clients rave about the quality of our guides, the depth of their knowledge, their ability to teach and most importantly, how incredibly fun they are. Still wondering who to book? We believe our past guest's comments make the decision easy!
Back to top
Your Safety is our number #1 concern
RRA has safely hosted 70,000+ kids and adults on our rafting, climbing, canyoneering and sking trips. RRA guides are at a minimum state licensed, insured and hold first aid and CPR certifications. Many of our river guides hold additional certifications in swift water rescue and whitewater instruction. Many, though not all, of our rock, ice, ski and canyoneering guides are AMGA trained or certified for the terrain they guide..
Back to top
Quality Equipment
When running trips quality equipment is paramount. RRA replaces its equipment on a regular basis. This ensures all the gear required to keep you safe and having fun is in top-notch shape.
Back to top
Reputation
RRA has earned the reputation of a professionally ran, top quality guide service. We are a tight knit family run business. Once you adventure with RRA we guarantee you'll be back for more.
Back to top
Do I need a reservation
YES! To guarantee space on the trip of your choice, we recommend reservations, especially on holidays and summer weekends. In order to provide the type of trip the we have become known for we do limit the number of people on a launch and we do fill up. In addition a lot goes into the planning of a river trip, including scheduling of guides, drivers, packing lunch for full-day and lunch trips and ensuring that our equipment is always in top-notch condition. Make a reservation as soon as you have a good idea of when you want to raft with us and you'll avoid disappointment. Feel free to call us about reservations at any time @ 1-877-259-4046 or email.
Back to top
About Age Limitations
Youth Rate = 15 years and younger!
Adults = 16 years and up!
All participants on river trips are required to wear a Coast Guard approved floatation device (PFD). For Fisher Towers trips we use an age limit of 5 and kids must weight at least 40 Lbs. On Climbing and Canyoneering trips the limit is 8 years of age. Ask yourself, what kind of previous outdoor experience has the child had? Use your considered judgment on the child's preparedness. On the other end, folks well into their 70's have adventured with us.
Back to top
Which Trip to Choose
We are thrilled to have the ability to offer such a wide variety or trips. We also realize that this can create confusion. We are a fantastic resource and look forward to helping you choose the trip that is perfect for you and your group. Please feel free to call or email with any questions you might have, we love to help. Often after a brief conversation with one of our staff the the answers become clear.
Back to top
Where do we park/leave our things
There is plenty of secure parking on site at our offices. Valuables can be locked in your vehicles and will be perfectly safe for the duration of your trip. In addition we are more than happy to store anything that you may be extra concerned about in our offices while you are on the river.
Back to top
Are there bugs
Thankfully there are usually very few to no bugs on our trips. The we travel through some of the driest terrain on the planet so there is generally no standing water for bugs to breed in. At the same time the current in the main river section is too swift to allow for breeding. This being said sometimes there are gnats or mosquitoes.
Back to top
What to Bring
Red River Adventures tries to make your trip with us as easy as possible! What to bring is clearly outlined on the "what to pack" tab for each of our trips. We provide most, to all, necessary equipment for you to take part in our rock climbing, canyoneering and river trips. This includes all rock climbing and canyoneering equipment, boats and boating equipment, safety equipment, life jackets, guides, food, beverages, camping and kitchen equipment. In addition you are welcome to bring, or we can provide at NO ADDITIONAL COST, camping equipment including tents, sleeping bags and inflatable mattresses. You simply bring your own personal clothing and gear. We will provide trip specific lists to assist you in bringing the right things.
Back to top
Where You Will Live and Sleep
A river trip is an outdoor experience and should be fun. There are no improved campgrounds along the river so we set up a portable sanitation facility each evening. It is very similar to an RV toilet except the view is much better and it doesn't flush. We provide hand washing stations and all dishes are done in a 4 step process ensuring complete sanitization. Previous camping experience is NOT required to participate in one of our trips, but you should be prepared and be comfortable with the idea of eating, sleeping, and living in the outdoors. Our guides are there to help and will provide as much or as little assistance as you wish to receive.
Back to top
What the Weather is Like
Be prepared for hot (75-110 F degrees) weather during June, July, and August. You can expect cooler temperatures (55-90 F degrees) during April, May, September, and October. August is usually the wettest month (short-lived but intense thunder showers).
April 73|42 May 84|50 June 85|58 July 101|64 Aug 98|63 Sept 89|53
Back to top
What You Will Eat
Most trips include all meals beginning with lunch on the first day and ending with lunch on the last day. No hot dogs and hamburgers here. Our menu includes plenty of fresh fruits and vegetables, grilled meats and fish and even hot dutch oven desserts. Guests often remark that the food was remarkable and exceeded even their wildest expectations. Check out our Menu page for more details.
Back to top
About Swimming and Fishing
Swimming is as much a part of a great river trip as whitewater and cooking out. Guests are more than welcome to swim on all our river trips. There is no better place to be on a hot summer day than swimming alongside one of our rafts. Catfish and Carp are plentiful in the Colorado and Dolores Rivers, the kids often enjoy fishing when at camp.
Back to top
What Risks Are Involved
Red River Adventures has an unblemished safety record. We personally screen and train our employees vigorously each year. Each of our guides receives extensive instructions on safety, swift water rescue and first aid training. Our Climbing and Canyoneering guides are highly trained and many are AMGA certified. Our trips take place in rugged, remote "wilderness" settings. You should be in good general health to participate. Non-swimmers can go and are more than welcome. We provide Coast Guard approved life jackets for your safety.
Back to top
Beverages
We supply plenty of drinking water, lemonade, breakfast drinks, etc. on each trip.
Back to top
Alcohol Policy
Full and 1/2 Day Raft Trips: Alcohol or drugs are not to be consumed before or during trips. No refund will be given to those drinking alcohol or using drugs prior to a scheduled trip. Multi-Day Raft Trips: Alcohol or drugs are not to be consumed before or during time on the river. No refund will be given to those drinking alcohol or using drugs prior to river time. Alcohol may be consumed, in camp, on multi-day trips. Climbing/Canyoneering trips. Alcohol or drugs are not to be consumed before or during trips.
Back to top
Charter and Group Rates
Red River Adventures offers a group rate discount of 10% to groups of 10 or more. Additional rates reductions are available for school, club, church, or special-interest groups on some trips. We are happy to, when ever possible, customized trip lengths and itineraries. Please contact us for help in arranging your charter trip or for group rate information.
Back to top
What To Pack
Red River Adventures will provide all of the technical equipment required to guide our listed canyoneering routes. Due to insurance and liability regulations, guests are required to use the technical equipment provided by Red River Adventures. In some instances there may be a required gear list; if applicable, this list will be distributed prior to your date of departure.
What you should pack
Small day pack
1-2 liters of water (minimum) per person
Snacks
Shoes, sandals or anything you can hike in and don't mind getting wet!
NOTE: Shoes or sandals will get wet and should be appropriate to hike 3 miles (Morning Glory) or 5 miles (Rock of Ages)
What we provide
AMGA-certified Single Pitch Instructors
All technical equipment:
Helmet
Harness
Gloves
Free parking
General
Please NOTE!!!! There is a time change from Arizona to Utah. Moab is one hour ahead of Arizona!
There is plenty of secure parking on site. Valuables are safe in your vehicle.
A credit card might be advisable for payment balances, t-shirts, etc.
At the end of all trips, we will return you to your starting location.
Guide gratuities are customary.
Reservations
Option #1 - Most of our Adventures can be booked by clicking the "Book Now" button for the trip you want.
Option #2 - For those trips that do not open a calendar Call 1-435-259-4046
or Email us through our Contact Page
Reservations are HIGHLY recommended! Many dates sell out far in advance!
A refundable payment is due to guarantee reservation.
Book Now!

Cancellations
Full & Half Day Trips, Clinics and Courses
A deposit of 1/2 the trip total is due at time of reservation.
Balance is due and will be charged 7 days prior to departure.
Cancellation/changes made 7 days prior to departure are FREE!
Cancellation, partial or in full, within 7 days of departure receive NO REFUND.
Large Group (18 or more)
A deposit of 1/2 the trip total is due at time of reservation.
Balance is due and will be charged 14 days prior to departure.
Cancellation/changes made 14 days prior to departure are FREE!
Cancellation, partial or in full, within 14 days of departure receive NO REFUND.
Please Note: RRA recommends you insure your trip!
While we are happy to make changes and allow cancellations within our policy guidelines RRA STRONGLY recommends purchasing travel insurance, no matter the size or length of your trip, to insure against loss in the event of an unforeseen, last minute, change in circumstances.
If you are not protected by your airline, credit card or other third party we recommend
Tin Leg
They will ensure your Red River trip, course, or your entire vacation for very reasonable costs.
Cancellations or changes, for any reason including Covid, inside our established cut-offs will not be refunded or rescheduled. Please consider protecting yourself by insuring your trip or course!
International trips
Deposit due at time of reservation; Final payment due 45 days prior!
Cancellation 45 days prior to departure is free!
Cancellations within 45 days of departure receive NO REFUND.
General
RRA reserves the right to cancel any trip due to weather, insufficient bookings or any other circumstances beyond our control at anytime. RRA will make every effort to reschedule the date. Bookings that are unable to be rescheduled or are cancelled by RRA will receive a full refund.
Weather
Weather is part of the dynamic environment in which we operate. We may experience conditions that you do not consider ideal. If we determine that conditions are suitable for the activity you have booked and you instead wish to cancel/discontinue the trip, we will, whenever practical, end the trip at your request with no refund. If conditions are such that RRA deems it unwise to continue, we reserve the right to alter the itinerary, which may include, but may not be limited to, shortening of route or length of trip. We may also change venue or cancel the remainder of your trip. If, at time of cancellation, the trip is less than 1/2 complete, we will charge 50% of trip fee. If the trip is between 1/2 and completed, a full trip fee is charged.
Alcohol
Full and 1/2 Day Raft Trips: Alcohol or drugs are not to be consumed before or during trips. No refund will be given to those drinking alcohol or using drugs prior to a scheduled trip. Climbing/Canyoneering trips. Alcohol or drugs are not to be consumed before or during trips.
Moab
Feels like: 27°F
Wind: 3mph NNW
Humidity: 91%
Pressure: 30.43"Hg
UV index: 0
46/25°F
48/27°F
46/19°F
45/21°F
46/21°F