Guided Powder Skiing Tours Hokkaido

Ski Hokkaido, Japan!
Our Hokkaido ski and snowboard trips focus on riding untracked powder and the quality of skiing! We use our combined experience guiding, tour planning, and Mako's vast network of industry professionals to find the best snow Hokkaido has to offer! We consistently get our clients to skiing and snowboarding which is unparalleled! These trips are led by an IFMGA guide, co-guided by RRA owner Carl Dec and local Japanese ski guide Makoto Takeishi.
Check out the skiing you'll likely encounter!
The island of Hokkaido is famous for its deep, dry snow and powder skiing! Cold fronts coming out of Siberia mix with moisture as they cross the Sea of Japan. The result is huge amounts of cold dry fluffy snow. The terrain in Hokkaido is mostly birch tree glade skiing and as steep as you like. On the occasion, when it stops snowing and we can see, there are opportunities to climb and summit some of the bigger mountains and volcanoes.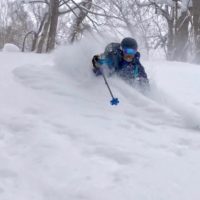 Difficulty – Moderate to difficult | Vert. varies
Days – 6 days skiing/7 nights lodging
Minimum age – 10
Venues – Hokkaido
Meets – Sapporo, Japan
Dates – January 21st – 28th – FULL
Dates – January 28st – Feb. 4th – FULL
For private trips contact us!
1 Person $4500
Check availability and
Book online now!
You will fly into Sapporo, Japan via the New Chitose Airport and be greeted by our guides. From there we make the drive to Otaru where we will be based for the start of the week. This gives us the option to ski the areas of Kokusai, Kiroro, Sapporo Teine and others while at the same time allowing you to explore the culture, food and fun of this wonderful city in the evening. We purposely choose smaller, less crowded areas that offer, what we think is, a better, more authentic Hokkaido ski experience.
Mid-week we travel to the northern part of the island and base in Asahikawa City. This gives us the option to ski Asahi-Dake, Kamui Ski Links, Furano and other "secret" backcountry locations. These "secret spots' are often the highlight of the trip!
The focus of our Hokkaido ski trip is riding untracked powder! If it is snowing, which is the norm and we can access untracked snow, lift-served side-country skiing is what we will do. However, if conditions dictate, we could be touring to access good snow for a portion of or sometimes all day. Therefore, touring equipment, some touring experience and descent fitness are mandatory. It is best to come into this trip as an advanced downhill skier, comfortable in black diamond tree skiing (28-38 degrees).
We choose each day's location based on weather, experience, and most importantly, information that is available to us through Mako and his network of local guides, ski patrollers and professional skiers and boarders. It is this wealth of information that constantly enables us to find the best snow for our clients. While others sit in the rain or are not riding due to high winds we have consistently delivered the goods. We focus on the details allowing you to ride the best snow available and immerse yourself in the culture and food of Japan.
ITINERARY:
Prior day 1: Sunday – Arrive in Japan 5 to 8 PM, Chitose airport, meet guides, and transfer to Otaru.
Day 1: Monday – First ski day at Kokusai, Kiroro, Teine, onsen stay Otaru.
Day 2: Tuesday – Ski at Kokusai, Kiriro or Teine, onsen stay Otaru.
Day 3: Wednesday – Ski Kokusai, Kiriro or Teine travel to Asahikawa.
Day 4: Thursday – Ski Asahi-dake, Furano or other backcountry location, onsen stay Asahikawa.
Day 5: Friday – Ski Asahi-dake, Furano or other backcountry location, onsen stay Asahikawa.
Day 6: Saturday – Ski Mt. nearby ski area or "secret spot" then drive to Chitose for last night.
Day 7: Sunday – Return home or extend your stay in Japan to see some sites!
DAILY ROUTINE:
7:00 am – Breakfast as a group. Discuss the plan for the day, weather, and logistics.
8:00 am – Depart for skiing
3:30 pm – Wrap up skiing, visit a local onsen, apres and return to the hotel
6:30 pm – Apres at hotel or local watering hole
7:30 pm – Dinner at local restaurant
Costs included in the trip:
Transportation during the week
Lodging for seven nights
Breakfast for 7 mornings
Lift tickets when needed
All guide wages
Costs not included in the trip:
Transportation from country of origin to New Chitose Airport (CTS) Sapporo, Japan
Lunches and dinners
Onsen visits
Gratuity/tips for guides
Personal AT, telemark or split-board equipment. (RRA has Black Diamond skis and Chimera snowboards that can be used in Japan. Please enquire for specifics!)
More video showcasing the skiing, food and culture of Hokkaido from our 2019 trip!
FAQ
Online Reviews - 5 Stars
Why Choose RRA? - 20 years of doing it right! Since 2003, when rafting operations began, we have gone on to expand our operations into rock and ice climbing, canyoneering, guided ski touring, travel trips and outdoor education. We have hosted over 85,000 guests and spent over 110,000 days in the field! We are so proud that this has garnered 5-star rankings across all online review sites. Land or water our clients rave about the quality of our guides, the depth of their knowledge, their ability to teach and most importantly, how incredibly fun each is. We believe our past guest's comments make the decision easy!
Back to top
Your Safety is our number #1 concern
Since we started this journey in 2003 we have safely hosted 85,000+ kids and adults and spent over 100,000 days rafting, climbing, canyoneering and skiing in Utah and around the world. RRA guides are at a minimum state licensed, insured and hold first aid and CPR certifications. Many of our river guides hold additional certifications in swift water rescue and whitewater instruction. Many, though not all, of our rock, ski and canyoneering guides are AMGA certified for the terrain they guide.
Back to top
Quality Equipment
When running trips quality equipment is paramount. We are proud to be a 'Preferred Guide Partner" of Black Diamond. RRA replaces its equipment on a regular basis. This ensures all the gear required to keep you safe and having fun is in top-notch shape.
Back to top
Reputation
RRA has earned the reputation of a professionally ran, top quality guide service. We are a tight knit family run business. Once you adventure with RRA we guarantee you'll be back for more.
Back to top
Do I need a reservation
YES! To guarantee space on the trip of your choice, we recommend reservations, especially mid-summer and on holidays and weekends. In order to provide the type of trip the we have become known for we do limit the number of people on our trips and we do fill up. Make a reservation as soon as you have a good idea of when you want to ski or climb with us and you'll avoid disappointment. Feel free to call us about reservations at any time @ 1-877-259-4046 or email.
Back to top
About Age Limitations
Age limits are set for each of our trips to be within industry standards and in accordance with our insurance carrier. In some cases the published age is a guideline and people younger may participate. For trips with youth rate pricing we use the following guidelines. Youth Rate = 15 years and younger!
Adults = 16 years and up!
Some trips are priced on a per person basis regardless of age.
Back to top
Which Trip to Choose
We are thrilled to have the ability to offer such a wide variety or trips. We also realize that this can create confusion. We are a fantastic resource and look forward to helping you choose the trip that is perfect for you and your group. Please feel free to call or email with any questions you might have, we love to help. Often after a brief conversation with one of our staff the the answers become clear.
Back to top
What to Bring
Red River Adventures tries to make your trip with us as easy as possible! We will clearly outline what we will provide and let you know what you need to bring. Generally all necessary group equipment for you to take part in our trips is included. Please NOTE! Skis, ski boots, poles, ice climbing boots and personal clothing are NOT included in the cost of trips. Rentals are available and RRA will assist you in reserving any gear you might need. We will provide trip specific lists to assist you in bringing the right things.
Back to top
What Risks Are Involved
Red River Adventures has an unblemished safety record. We personally screen and train our employees vigorously each year. Our climbing, skiing and canyoneering guides are highly trained and many, though not all, are AMGA trained or certified for the terrian they guide. Our trips take place in rugged, remote "wilderness" settings. You should be in good general health to participate.
Back to top
Charter and Group Rates
Red River Adventures offers a group rate discount of 10% to groups of 10 or more. Additional rates reductions are available for school, club, church, or special-interest groups on some trips. We are happy to, when ever possible, customized trip lengths and itineraries. Please contact us for help in arranging your charter trip or for group rate information.
Back to top
What To Pack
Red River Adventures can provide:
Full AT setups are available to rent through our partnership with Black Diamond.
RRA will help coordinate rental in advance.
Ski Touring (recommended)
Big Puffy Coat)
Shell – Jacket/pants (GorTex with little to no insulation)
Insulating layer – synthetic puffy coat
Mid Layer – Synthetic or wool zip shirt
Base layers: Synthetic, wool or silk bottom, underwear and top
2 pairs of gloves
Beanie and baseball cap
Buff
Wool or synthetic ski socks
Helmet
Googles
Bottle/thermos for hot tea
Sunscreen
Sunglasses
Handwarmers/Toe warmers
General
We are always available to answer any questions you may have. A complete packing list will be emailed prior to your trip.
Reservations
Option #1 - Most of our Adventures can be booked by clicking the "Book Now" button for the trip you want.
Option #2 - For those trips that do not open a calendar Call 1-435-259-4046
or Email us through our Contact Page
Reservations are HIGHLY recommended! Many dates sell out far in advance!
A refundable payment is due to guarantee reservation.
Book Now!

Cancellations
Full & Half Day Trips
50% deposit due at time of reservation.
Balance is due and will be charged 7 days prior to departure.
Cancellation/changes made 7 days prior to departure are FREE!
Cancellation, partial or in full, within 7 days of departure will not be refunded or rescheduled.
Full & Half day - Large Group (14 or more)
50% deposit due at time of reservation.
Balance is due and will be charged 14 days prior to departure.
Cancellation/changes made 14 days prior to departure are FREE!
Cancellation, partial or in full, within 14 days of departure will not be refunded or rescheduled.
Clinics, Courses, and Exams
50% deposit due at time of reservation.
Balance is due and will be charged 30 days prior to departure.
Cancellation/changes made 30 days prior to departure are FREE!
Cancellation, partial or in full, within 30 days of departure will not be refunded or rescheduled.
International trips
A refundable deposit of 10% is required to hold space.
120 days - 50% is due and will be charge to the card on file.
60 days - 100% is due and will be charged to the card on file.
Cancellation 60 days prior to departure are FREE. A full refund will be given.
Cancellation, partial or in full, within 60 days of departure will not be refunded or rescheduled.
Europe
A non- refundable deposit of 25% is required to hold space.
90 days - Balance is due and will be charged to the card on file.
Cancellation, partial or in full, within 90 days of departure will not be refunded or rescheduled.
Please Note: RRA recommends you insure your trip!
We HIGHLY recommend purchasing trip insurance. Please use
Tin Leg
or similar to insure your trip, course or clinic if you are not protected by your airline, credit card, or another third party.
Purchasing travel insurance no matter the size or length of your trip will protect against loss in the event of an unforeseen, or last-minute, change in circumstances.
Cancellations or changes for ANY reason, including Covid-19, inside our established cut-offs will not be refunded or rescheduled. Please consider protecting yourself by insuring your purchase!
General
RRA reserves the right to cancel any trip due to weather, insufficient bookings or any other circumstances beyond our control at anytime. RRA will make every effort to reschedule the date. Bookings that are unable to be rescheduled or are cancelled by RRA will receive a full refund.
Weather
Weather is part of the dynamic environment in which we operate. We may experience conditions that you do not consider ideal. If we determine that conditions are suitable for the activity you have booked and you instead wish to cancel/discontinue the trip, we will, whenever practical, end the trip at your request with no refund. If conditions are such that RRA deems it unwise to continue, we reserve the right to alter the itinerary, which may include, but may not be limited to, shortening of route or length of trip. We may also change venue or cancel the remainder of your trip. If, at time of cancellation, the trip is less than 1/2 complete, we will charge 50% of trip fee. If the trip is between 1/2 and completed, a full trip fee is charged.
Alcohol
Full and 1/2 Day Raft Trips: Alcohol or drugs are not to be consumed before or during trips. No refund will be given to those drinking alcohol or using drugs prior to a scheduled trip. Climbing/Canyoneering trips. Alcohol or drugs are not to be consumed before or during trips.