Guided Backcountry Ski Tours in Utah
Skiing in the Wasatch Mountains
Utah's backcountry skiing in the Wasatch Mountains outside of Salt Lake City is among the best on the planet – we are famous for the "Greatest Snow on Earth."
We offer Guided Utah Backcountry ski tours in Big Cottonwood and Little Cottonwood Canyon that will take you to the very best powder that these world-class canyons offer. From lift-accessed backcountry touring, to skiing and riding selections from the "Chuting Gallery," we will show you the way to the most memorable day of skiing.
We have a collection of amazing split board and ski guides to lead these amazing tours. Our guides have more experience in this terrain than just about anyone. Red River Adventures knows where the best Utah snow is and will ensure that you experience the best Backcountry Skiing, Splitboarding & Snowboarding the Wasatch Mountains have to offer.
We have a level of difficulty and type of terrain for everyone!
Check out the video of our lift-accessed skiing from Brighton Resort
Backcountry Ski Tours in the Cottonwood Canyons
Classic Introductory Tours
If you've never skied or snowboarded in the Wasatch Mountains before, the classic backcountry touring ski package will get you up high to the best views of the mountain range with the shortest approach. These guided backcountry tours will take place in either Little or Big Cottonwood Canyons depending on the snow and where the best skiing can be found.
These tours are suitable for first-time tourers and also include instruction and tips on using the equipment and skinning techniques as needed.
The skiing features gentle, rolling terrain suitable for a wide range of abilities, slopes with low avalanche danger, and hopefully, a taste of the famous Utah powder. Tour will be approximately 1,500 – 3,000 feet of climbing and riding.


more details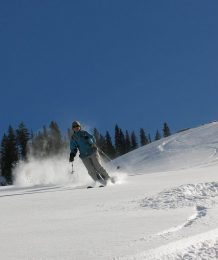 Difficulty – Easy | 1,500 to 2,500 vert.
Days – 6 hours
Minimum age – 10
Venues – Big & Little Cottonwood Canyons
Meets – 8:00 AM
Dates – December to March
1 Person $450 | 2 People $275 each | 3 People $200 each
Check availability and Book online now!
Classic Intermediate Tours
Days Fork, Silver Fork, Cardiac, White Pine & Red Pine – these are just some of the places that have made backcountry skiing in Utah world-famous due to their relatively short, moderate approaches to access this classic powder terrain.
Specific tours will vary based on conditions and client requests, but the focus will be on experiencing the Central Wasatch and going where the best snow can be found. Many of these tours start in Little Cottonwood Canyon, followed by skiing down into Big Cottonwood and eventually working our way back up and over into Little Cottonwood again. Tour will be 3,000 to 5,000 feet of climbing and riding.


more details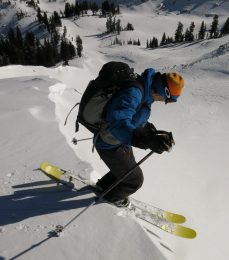 Difficulty – Moderate to Hard | 3,000 to 5,000 Vert.
Days – 1
Minimum age – 12
Venues – Big & Little Cottonwood Canyons
Meets – 7:30 AM
Dates – December to March
1 Person $450 | 2 People $275 each | 3 People $200 each
Check availability and Book online now!
Classic Advanced Tours
One unmistakable beauty of ski touring in the Wasatch Mountains is the ability to link multiple peaks, drainages, and slopes in the same day. Advanced Tours will focus on covering a wide variety of terrain and searching out wherever and whatever the best skiing of the day may be.
Options might include skiing a tree circuit during a snowstorm or skinning ridgelines and skiing the steeps when conditions permit. Because this Guided Utah Backcountry ski tour requires solid physical stamina and good skinning technique, clients must be approved beforehand either through a prior outing with Red River Adventures or by the guide. Tour will be approximately 5,000 to 8,000 feet of climbing and riding.


more details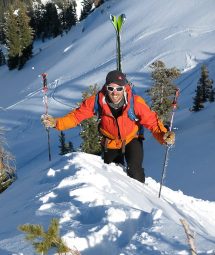 Difficulty – Hard | 5,000 to 8,000 Vert.
Days – 1
Minimum age – 12
Venues – Big & Little Cottonwood Canyons
Meets – 7:30 AM
Dates – December to March
1 Person $500 | 2 People $300 | 3 People $250
Check availability and Book online now!
Lift Access Backcountry Skiing and Riding
Some of the best backcountry skiing and riding in the Wasatch lies right outside the resort boundaries. Lifts provide fast access to this high mountain terrain and allow us to reach the uppermost elevations of the Wasatch Mountains and stack up vertical with considerably less hiking or skinning.
By combining lifts with short hikes and traverses, we can ride untracked powder adjacent to the resorts lap after lap, or get a bump when heading to more remote peaks. Leaving the resort is not for those without the skills and equipment. Let us guide you through this terrain to provide a day that you will not forget. Lift ticket is included when needed! Gate policies vary by resort.


more details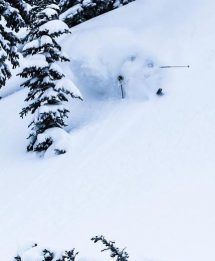 Difficulty – Easy-Hard | Vert. varies
Days – 6 Hours
Minimum age – 10
Venues – Big & Little Cottonwood Canyons
Meets – 8:00 AM
Dates – December to March
1 Person $550 | 2 People $350 each | 3 People $275 each
Includes lift ticket
Check availability and Book online now!
Utah Backcountry Skiing Photo Gallery
Guided Backcountry Ski Tours FAQ
What is Backcountry Skiing?
Backcountry skiing is any type of skiing on unmarked, unpatrolled trails. In contrast to ski resorts that usually have people on marked trails that are groomed and filled with people, backcountry skiing takes place on all-natural terrain. This is a great opportunity for you to experience fresh powder, to see what the backcountry areas look like untouched by humans, and you could even see some wildlife!
What Are the Types of Backcountry Skiing?
Backcountry skiing range from alpine touring, telemark skiing, ski mountaineering, and freestyle skiing. Backcountry ski types vary in terms of the terrain used, type of skis used, the vertical grade, and the locations in which the ski trips take place.
How Fit Do I Need To Be?
You need to be in moderate shape to go backcountry skiing. The good news is that our trips vary widely in terms of difficulty. If you want to participate in our advanced backcountry ski adventure, you will definitely need to be in great shape for an advanced skiing experience. On the other hand, we also have trips for beginners!
Do We Learn About Avalanche Safety and Beacon Use?
Absolutely! We place safety at the top of our priority list. Backcountry skiing is going to expose you to the very best powder ice that these canyons have to offer. Avalanches are at the very top of our safety concerns and we will teach you how to deal with them safely, including avoiding avalanches. Before the tour starts, we are going to make sure that we do everything we can to keep you safe. We will assess the weather conditions, provide you with a lesson, and guide you throughout the backcountry trails of the local area in a safe, enjoyable manner.
I'm New To Backcountry Skiing – Is That Ok?
Absolutely! This is a great way to get introduced to backcountry skiing. If you are new to backcountry skiing, we will work with you to make sure that you have a great time!
What Length Backcountry Ski Do I Need?
If you are looking for an easier way to choose your skis, most people choose skis that are within 10 centimeters of their overall height (ski length is usually listed in cm). The exact length of ski is going to vary from person to person. In general, people who are newer to the world at backcountry skiing will want to choose a shorter ski because they are easier to control. You also need to think about the width of your skis. They need to be wide enough so that you do not sink into the powder snow. If you need help with choosing skis for you, we can certainly provide assistance!
Where to Backcountry Ski in Utah?
If you are looking for a place to ski in the backcountry of Utah, consider letting our guides take you on a ski tour of the Wasatch mountains. We provide a wide variety of trips that are designed for people of all skill levels. We provide introductory tours in the Cottonwood Canyons, intermediate tours in Days Fork, Silver Fork, Cardiac, and White Pine, and even advanced tours that focus on covering a wide variety of terrain. If you are looking for a backcountry ski tour, give us a call today!
We can't wait to meet you and help you plan your next backcountry skiing adventure!
TripAdvisor 5 Stars
Why Choose RRA? Red River Adventure's online reviews have consistently been excellent. Since 2003 no other company has received such high praise from guests. Land or water our clients rave about the quality of our guides, the depth of their knowledge, their ability to teach and most importantly, how incredibly fun they are. Still wondering who to book with? We believe our past guest's comments make the decision easy!
Back to top
Your Safety is our number #1 concern
RRA has safely hosted 70,000+ kids and adults on our rafting, climbing, canyoneering and Ski trips. RRA guides are at a minimum state licensed, insured and hold first aid and CPR certifications. Many of our river guides hold additional certifications in swift water rescue and whitewater instruction. Many, though not all, of our rock, ski and canyoneering guides are AMGA certified for the terrain they guide.
Back to top
Quality Equipment
When running trips quality equipment is paramount. We are proud to be a 'Preferred Guide Partner" of Black Diamond. RRA replaces its equipment on a regular basis. This ensures all the gear required to keep you safe and having fun is in top-notch shape.
Back to top
Reputation
RRA has earned the reputation of a professionally ran, top quality guide service. We are a tight knit family run business. Once you adventure with RRA we guarantee you'll be back for more.
Back to top
Do I need a reservation
YES! To guarantee space on the trip of your choice, we recommend reservations, especially mid-summer and on holidays and weekends. In order to provide the type of trip the we have become known for we do limit the number of people on our trips and we do fill up. Make a reservation as soon as you have a good idea of when you want to ski or climb with us and you'll avoid disappointment. Feel free to call us about reservations at any time @ 1-877-259-4046 or email.
Back to top
About Age Limitations
Age limits are set for each of our trips to be within industry standards and in accordance with our insurance carrier. In some cases the published age is a guideline and people younger may participate. For trips with youth rate pricing we use the following guidelines. Youth Rate = 15 years and younger!
Adults = 16 years and up!
Some trips are priced on a per person basis regardless of age.
Back to top
Which Trip to Choose
We are thrilled to have the ability to offer such a wide variety or trips. We also realize that this can create confusion. We are a fantastic resource and look forward to helping you choose the trip that is perfect for you and your group. Please feel free to call or email with any questions you might have, we love to help. Often after a brief conversation with one of our staff the the answers become clear.
Back to top
What to Bring
Red River Adventures tries to make your trip with us as easy as possible! We will clearly outline what we will provide and let you know what you need to bring. Generally all necessary group equipment for you to take part in our trips is included. Please NOTE! Skis, ski boots, poles, ice climbing boots and personal clothing are NOT included in the cost of trips. Rentals are available and RRA will assist you in reserving any gear you might need. We will provide trip specific lists to assist you in bringing the right things.
Back to top
What Risks Are Involved
Red River Adventures has an unblemished safety record. We personally screen and train our employees vigorously each year. Our climbing, skiing and canyoneering guides are highly trained and many, though not all, are AMGA trained or certified for the terrian they guide. Our trips take place in rugged, remote "wilderness" settings. You should be in good general health to participate.
Back to top
Charter and Group Rates
Red River Adventures offers a group rate discount of 10% to groups of 10 or more. Additional rates reductions are available for school, club, church, or special-interest groups on some trips. We are happy to, when ever possible, customized trip lengths and itineraries. Please contact us for help in arranging your charter trip or for group rate information.
Back to top
What To Pack
Red River Adventures will provide:
For technical outings ice ax and crampons will also be provided.
Full AT set ups are available to rent through our partnership with Black Diamond.
RRA will help co-ordinate rental in advance.
Ski Touring (recommended)
Shell – Jacket/pants (soft shell or gortex little to no insulation)
Insulating layer – Down or synthetic puffy coat
Mid Layer – Synthetic or wool zip shirt
Base layers: Synthetic, wool or silk bottom, underwear and top
2 pairs of gloves
Hat, beanie
Buff
Wool or synthetic ski socks
Helmet & Googles
Ball cap & Sunglasses
Bottle/thermos for hot tea
Sunscreen
Handwarmers/Toe warmers
General
We are always available to answer any questions you may have. A complete packing list will be emailed prior to your trip.
Reservations
Option #1 - Most of our Adventures can be booked by clicking the "Book Now" button for the trip you want.
Option #2 - For those trips that do not open a calendar Call 1-435-259-4046
or Email us through our Contact Page
Reservations are HIGHLY recommended! Many dates sell out far in advance!
A refundable payment is due to guarantee reservation.
Book Now!

Cancellations
Full & Half Day Trips, Clinics and Courses
A deposit of 1/2 the trip total is due at time of reservation.
Balance is due and will be charged 48 hours prior to departure.
Cancellation/changes made 48 hours prior to departure are FREE!
Cancellation, in part or full, within 48 hours of departure receive no refund.
Please Note:
NO REFUNDS for cancellations, in part or full, within 48 hours of departure.
International trips
Deposit due at time of reservation; Final payment due 45 days prior!
Cancellation 45 days prior to departure is free!
Cancellations within 45 days of departure receive NO REFUND.
General
RRA reserves the right to cancel any trip due to weather, insufficient bookings or any other circumstances beyond our control at anytime. RRA will make every effort to reschedule the date. Bookings that are unable to be rescheduled or are cancelled by RRA will receive a full refund.
Weather
Weather is part of the dynamic environment in which we operate. We may experience conditions that you do not consider ideal. If we determine that conditions are suitable for the activity you have booked and you instead wish to cancel/discontinue the trip, we will, whenever practical, end the trip at your request with no refund. If conditions are such that RRA deems it unwise to continue, we reserve the right to alter the itinerary, which may include, but may not be limited to, shortening of route or length of trip. We may also change venue or cancel the remainder of your trip. If, at time of cancellation, the trip is less than 1/2 complete, we will charge 50% of trip fee. If the trip is between 1/2 and completed, a full trip fee is charged.
Alcohol
Full and 1/2 Day Raft Trips: Alcohol or drugs are not to be consumed before or during trips. No refund will be given to those drinking alcohol or using drugs prior to a scheduled trip. Multi-Day Raft Trips: Alcohol or drugs are not to be consumed before or during time on the river. No refund will be given to those drinking alcohol or using drugs prior to river time. Alcohol may be consumed, in camp, on multi-day trips. Climbing/Canyoneering trips. Alcohol or drugs are not to be consumed before or during trips.