What You Need to Know for Your First Time White Water Rafting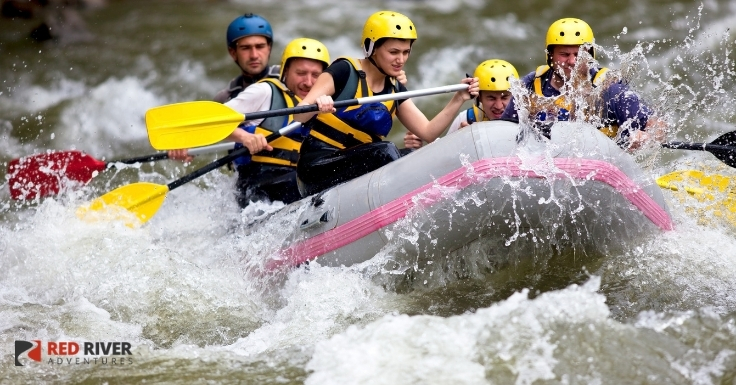 Whitewater rafting looks thrilling in the videos and pictures. It is a great recreational activity ideal for families at any skill level. Take in the breathtaking panoramas from Utah's splendid rivers, in the expert care of your Red Rivers Adventures expert Moab river rafting guide. Below are some basics that are helpful to know on your first-time whitewater rafting in Moab, Utah.
What Are the Best Months for Moab Rafting?
We operate rafting tours in Moab from March to September. The river rafting conditions change year to year based on the snowpack received, which determines water levels. Use the following information to choose the best time to go rafting based on what you're seeking. Generally speaking:
Early spring to summer — the weather hasn't warmed up to the point of melting a large portion of the snowpack yet, so waters are calmer with lower water levels.
Summer to fall — As Moab heats up in the late spring to summer months, the snowpack melts more quickly and thus feeds the river with more water resulting in higher water levels and more extreme rapids. Peak water levels will be in June.
If you have questions, contact Red River Adventures and we can help create the perfect whitewater rafting excursion for your family.
Is There a Minimum Age Requirement for Whitewater Rafting?
Yes, the minimum age limit for whitewater rafting is 5 years old, and all kids must weigh at least 40 pounds (18 kilograms). All Moab rafting trips hosted by Red River Adventures are comfortable and accessible for virtually everyone.
Do You Need Experience for Whitewater Rafting?
No, prior experience in rafting, paddling, or swimming is not necessary for mild rapids. Your certified rafting guide will direct you throughout the trip, provide safety advice in advance, and explain what to expect at upcoming parts of the river all along your river trip.
How Many People Will Be in the Raft?
Most of our rafts are smaller to provide a more personal and exciting experience floating on the river. Red River Adventures rafts seat an average of 5 people and a licensed rafting guide.
What Should I Wear and Bring with Me?
Every raft occupant is a given helmet, a personal flotation device, and a paddle. We suggest using old gym shoes, water shoes, or sandals that will not come off. Flip-flops or loose-fitting sandals should not be worn. REMEMBER: Any time of year, wearing sunscreen is strongly advised.
River Rapids Rating Scale
The beginner-level rafting experience is ideal for vacationing families and recreational groups. As you're learning about whitewater rafting with a guide in the Moab area, you may see the rapids described by class number, as below. The rapids class ratings indicate the level of difficulty of traversing a segment of the river in a watercraft. There are six categories of challenge:
| Classes of River Rapids | Descriptions of Rapids |
| --- | --- |
| Class I | Very Easy, minimal challenges, good for beginners. |
| Class II | Easy, minimal strength of rapids, some small objects to maneuver around for the novice rafter. |
| Class III | Medium strength, irregular rapids with numerous objects to maneuver around. |
| Class IV | Difficult with fast current, powerful rapids, boiling eddies, and precise maneuvring required; for advanced whitewater rafters |
| Class V | Very difficult rapids with continuous, violent rapids, high navigational difficulty, only for expert-level whitewater rafters who have full familiarity with the river |
| Class VI | Extremely difficult and dangerous rapids. Rapids may only be navigatable during favorable conditions and this water should only be left to professionals using extreme caution |
Note: Red River Adventure provides Class I – III rapids only. If you are looking for a specific level of difficulty, call us. We don't always stick to a designated itinerary every single time, and we can take you to different parts of the river based on the level of difficulty you are seeking.
Book Your Whitewater Rafting Trip in Moab, Utah with Red River Adventures Today!
We are Moab's only adventure guide service with permits for guided river rafting, rock climbing, canyon exploration, and National Park trips. We offer the best rafting in Moab, in either single-day or multiple-day adventures. Our professional whitewater rafting guides are all highly qualified and hold professional certifications. Our boats for rafting are smaller, which makes our river trips more personal and exciting!
On our rafting trips, we treat our guests like family, but we manage all equipment and raft handling with a great abundance of professional knowledge and skill, and safety is our top priority. It makes sense that Trip Advisor has named Red River Adventures among the best of its travel recommendations 5 times.
Start your whitewater rafting adventure by calling Red River Rafting Tours at (435) 259-4046, to schedule your river rafting trip, or contact us online anytime.