Blog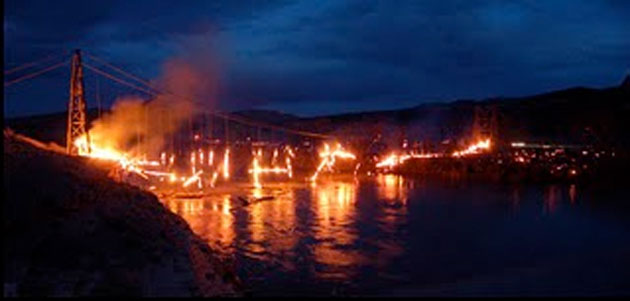 We've all been told that playing with matches is a no no. Hell, I've told my daughter that within the last month.
Now, courtesy of some children camping along the Colorado River at Dewy Bridge campground Moab has a concrete example and spectacular pictures of what happens when that rule is broken.
In early April a brush fire was started that subsequently engulfed the historic Dewey Bridge.
No longer will the Moab rafting community get to look out at the bridge that Mr. Dewey, a self taught engineer, built. So know that when driving in on senic byway 128 you think to yourself, didn't there used to be a bridge there? that there did indeed and your not going crazy.
Blogging is, I've discovered, for those trapped at 37,000 feet heading a continent away or those with no job.(unless that job is blogging) You can't have kids and certainly no bills bigger than last night bar tab or a looming cell bill and still have time to write.
When the hell does someone with kids, a job or worse yet a guiding company to run have time to sit in front of a computer and write something that most will never see and even fewer will care about all in the hopes of gaining a few more hits to a blog or related website?
It was with the best of intentions that I started the desert dairies. Our crew, flung far and wide doing things that would make National geographic adventures "must do" list on a daily basis seemed like a slam dunk of fodder for the blogosphere. Naively I thought that by combing through a few emails, listening to a few stories or relating whatever it was that I had done that day, I would be able to come up with all that I needed to fill a blog with interesting reading for both friends and outsiders alike. Simply do, read or listen, process and rewrite, boy was I wrong.
Blogging takes time. At least it does for me. I want what I write to be good, or at least tolerable and if tolerable at least mildly entertaining or informative and that takes time. I've got more than a few posts that have never seen the cold light of the LCD screen because I've too tough an editor or too scared to put what I thought/wrote out there. Rather than post the ramblings of a post adventure adrenalin filled outdoor junkie I'll often puke out my thoughts and leave them to sit in the never world that is my hard drive.
No more I think.
Good or bad what we do is what you'll read about. I apologize if the grammar is bad or the sentence structure or punctuation is wrong. Those things I'm definitely not good at.
So no more worrying about those things I didn't learn very well in creative writing during college.
Long, short, completely coherent or totally nonsensical I'm bringing what we do to the desert dairies.
Check back and read on.
Written from a very uncomfortable seat high over the Atlantic.
Well it's starting to happen. Hardly a day goes by that I don't hear a story related to how much snow is in the mountains or possible spring time flooding.
Now the good people at the Dolores Water Conservancy have released their forecast for the 2008 season. In a word, WOW.
They are going to release water for all of April and May and with planned releases of 3000 cfs+ in May. The rafting on the Gateway section should be fantastic. There hasn't been releases of this much water for this long a period of time in many years.
Everyone at Red River Adventures is incredibly excited about the upcoming 2008 season and running the Dolores in particular. Smaller than most of the classic desert rivers this incredibly scenic and remote river offers technical rafting at it's best.
Here's something that I have recently stumbled upon, the Dirt Bag Diaries. Check it out. Fitz Cahall podcasts stories of life, travel and climbing. Quiet, genuine stories that rise above the deafening roar of all that this hyper connected world is.
This american life for anyone who has ever gotten first chair, earned thier turns, tied in or stood at the top of a rapid they've never run.
FOMO, finally an acronem I can get behind. I admit it I got it. Everyday I cram from beginning to end with play, family and work all because of FOMO. Why do 1 thing when you could do 2 or 3. My wife thinks I'm crazy. Probably.
What if today was the last one I had? I think that would be OK.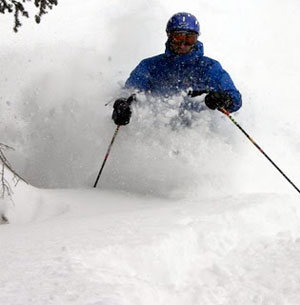 Carl on a Class V powder day!!!
That was a quick month and a half. It's amazing how fast time goes by when it snows almost every day and the ice climbing is as good as it has been in a decade. It's been snowing like the old days. 14′ of glorious, river swelling snow fell in the Wasatch range between December 20th and January 10th. Some locations in Colorado have already recieved more snow this year than all of last.
Most of the Riverpeople have been out in the white stuff taking advantage of the water in the mountians before it melts and makes our rapids.
Pray for snow!!!!!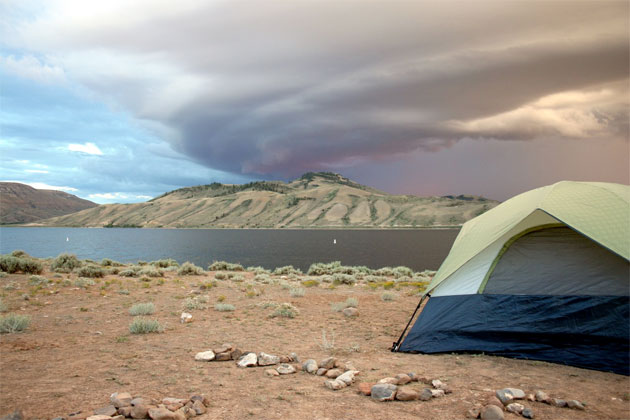 Ah the weather. Ask me if I thought that I have to be a weather forecaster when I started Red River Adventures and my answer would have been a resounding NO.
That however is not the case. I am constantly asked about the weather.
From the "what's it like in (month your visiting Moab here) to will it rain tomorrow. Weather it turns out is a large part of what I talk about. I've got to admit that my weather geekness goes quite deep and back in fact to my childhood. I grew up on the east coast and surfed. Weather systems are what makes waves in the east so early on when not in the water I could be found watching the Weather Chanel and listening to the NOAA radio for the latest updates. Now that I ski, climb and raft weather plays a huge roll in what and when I do what I do.
So besides looking out the window here are some of the places I look at to figure out what is going to happen.
The first and best place for Moab weather and your local forecast is the National Weather Service. Simply type in your zip code and you'll get to everything you need from the "at a glance" forecast to radar to my personal favorite, satellite imagery.
The 4k infrared loop gives you a great idea of what's coming and how strong what's coming is. I'll often look at this and local radar to get a handle on rain and snow.
After looking at what's coming at me I will always read the forecast discussion. The discussion is the raw version of the forecast and it offers a great look into what the folks at the NWS are actually thinking. It's the regional head forecasters best guess at what happens, when and why. A forecast of the forecast type of thing. Timing of storms is often discussed as well as the forecasters opinion on whether what the weather models are showing is accurate in their opinion.
Lastly, if something important is on the calendar starting a week and a half out I will check the Weather.com 10 day forecast. Sometimes very accurate, sometimes not so much this should definitely be taken with a grain of salt.
Pray for snow!!!!!
I now have a TV.
The biggest TV I've ever owned. Not big by American standards but certainly big by riverpeople standards, 37 inches of HD Liquid Crystal clarity.
I like it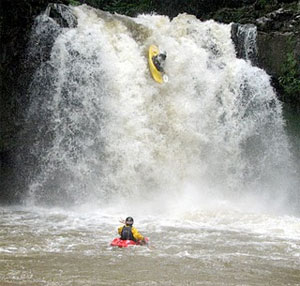 Billy dropping the 3rd falls on the Class V Poza Azul, Costa Rica.
I love/hate email. Today fell firmly in the love categorie. It was a bit like Christmas I got a TR from the boys of Red River and this photo. Good to see that everyone is stepping it up a bit. Billy's kayaking has certainly come a long way in a few short months.
Trips highlights so far included running the Class IV, Rio Torro and the Class III, Rio Balsa, working on speaking the language, hangin with the local riverpeople and rest days at the beach.
Knowing what I know about that crew the nights have been Class V as well.
After running rivers like these the local Moab rivers are going to be tame by comparison. Probably alright though, no need to worry about guests dropping 35'ers.
I currently have no TV.
It's not that I don't have cable or that I have a TV that is too small or one that I can only watch movies on. I don't have a working television. It may be the first time ever in my life that I don't have one at all.
I like it.